Rhiannon's
Celtic Spirit



Bannaght! I'm in the process of updating
so please be patient as there's a few outdated links.
Here's some of the most magical places on earth.
Come Back to Avalon, Stonehenge and Tintagel with me.
Rhiannon's Celtic photo Gallery
Arthurian Links
Camelot and Arthurian Legend: Don't let it be forgot,
That once there was a spot, For one brief, shining moment
that was known as Camelot

DRUIDESS GAELANS WEBPAGE: Lots of Athurian Resources

Here's something different, not many of you may know
I hail from New Zealand
and recently they have discovered lots
of old stone circles and some huge outdoor observatories,
and a mysterious ancient city hidden in a forest.
these date way back before any other civilizations
were present in New Zealand.
Intrigued? Check out
Another one that has inntrigued me recently is a
website about a working Celtic Cross.
It may have been used as a navigational and measuring tool
Check out Crichton Millers
incredible theories and workings
Myths and Legends: Dictionary of all sorts
of Myths and Legends

Earth Mysteries: An introduction
Celtic and Heraldic Center: Dedicated to the preservation
of Celtic Culture

Welcome to Glastonbury: A look at the Haven of Avalon
Irish Ancestors: Geneological guide for those
interested in exploring their Irish heritage.
Ancestry.com: Search over 1 billion names
Gaelic Dictionaries online: search online several
Gaelic dictionaries
On Avebury,Glastonbury, Stonehenge and Crop circles
Celt Net: An online Celtic Community
Celtic Whispers: A realm of Myth Magic and Lore
Animal Symbolism in celtic mythology
Celtic Resources and references
Encyclopedia Mythica: Celtic mythology
CELTIC ART LINKS

The world of Celtic Art: A great site with loads of
celtic artwork
Public Domain pagan clipart: a great collection
Magickal Moon: all sorts including some great art

CELTIC MUSIC LINKS
Ceola's: home of celtic music on the internet
Celtic music and culture links
For links to Rhiannon orientated pages ...Scroll down
The Celt Within


The Celt within me has stirred,
Can now glimpse part of the long forgotten wyrd.
Back to the earth I turn,
To sit at her roots, attempting to relearn.

Revelling in the lores incredible wealth
Of knowledge passed down through the times.
Meditative moments opening up doors in my mind.
Tales brought down through word of mouth,
Finally make their way to my welcoming hearth.

Letting the past come to the fore,
So I can relive once more.

Celebrate the seasons as they pass,
To the hands of my loved ones I hold fast.
Honour my Ancestors as their due,
Ensuring I'm aware of everything I say and do.

Adhering to the natural laws,
Living in wonder at its raw force .
The pieces of the puzzle taking on it's visage.
Urging me to celebrate the richness of this heritage,
And The Celt within,
steps forward to take her rightful place ... CJA


Sign My Guestbook


View My Guestbook

To all my BOTA supporters
I am afraid I can no longer
represent The House of Celts in the battle.
Thankyou all very much for your support
over the last year.
Blessings
Every difficulty contains an opportunity. Albert Einstein

MY POETRY
Rhiannon's Astrology, Astronomy and Moon links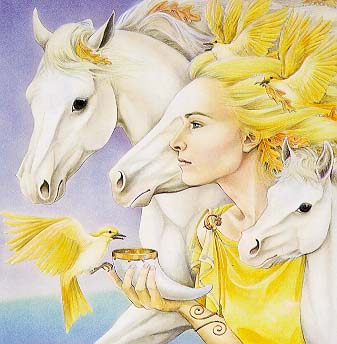 Updated!!
Links to Rhiannon Orientated Pages
Rhiannon- Goddess of transformation and wisdom
Sacred Earth Designs- Rhiannon Goddess pendant
Moonshadows Lore-Rhiannon Goddess
rhiannon Great Queen of the Celts
Rhiannon - Goddess of birth and creation
Some day soon I will hopefully be able to find the time
to create a whole page devoted solely to Rhiannon.
I have been honoured indeed! A very talented artist
J.G.Galbreth has given me her version of Rhiannon
to show here! Isn't she incredible!
You can visit J.Galbreth and view her
extensive gallery at